Turn your PC into a true gaming machine with the GeForce GTX 1050 Ti graphics card. It's based on the state-of-the-art Pascal architecture manufactured with the ultra-fast FinFET, and comes with 768 CUDA Cores and 4GB 128-bit GDDR5 memory. Thus you get impressive performance and capability to experience the latest titles in their full glory. The GeForce GTX 1050 Ti is also loaded with a rich array of gaming-enhancing technologies to improve your gaming experience, like Ansel technology that captures 360-degree game scenes, G-Sync for smooth, tear-free images, and more.
This MSI GTX 1050 Ti 4GT OC model is factory overclocked to 1341 / 1455 MHz Base / Boost Clock (1290 / 1392 MHz Base / Boost for reference design) for better performance and smooth gameplay out of the box. The Military Class 4 components and a powerful yet quiet dual-fan cooling ensure optimized durability and stability you can count on in intense gaming.
Dual Fans Thermal Design
Dual fans design covers more area of heatsink to take heat away more efficiently.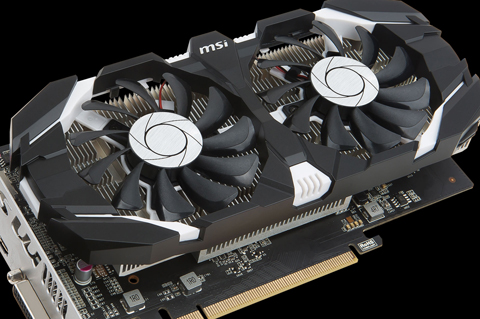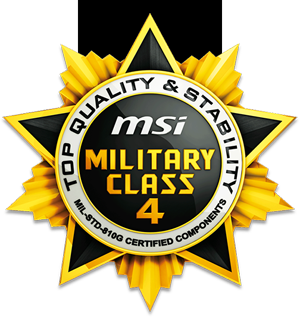 Military Class 4 Components
One of the deciding factors in performance is the quality of the components used. That is why MSI only uses MIL-STD-810G certified components. Only these components have proven durable enough to withstand the torturous circumstances of extreme gaming and overclocking for extended usage.
SolidCap - With their aluminum core design, Solid CAP's have been a staple in high-end component designs and provides lower Equivalent Series Resistance (ESR) as well as its over-10-year lifespan.