Core/Memory
Boost Clock / Base Clock / Memory Frequency
1556 MHz / 1442 MHz / 7108 MHz (OC Mode)
1531 MHz / 1417 MHz / 7008 MHz (Gaming Mode)
1455 MHz / 1354 MHz / 7008 MHz (Silent Mode)
2048 MB GDDR5

Video Output Function
DisplayPort x 1
HDMI x 1
Dual-link DVI-D x 1

Features
DirectX 12 Ready
Gamestream to NVIDIA® SHIELD

THE ULTIMATE PC GAMING PLATFORM
Get Game Ready with GeForce® GTX.
GeForce GTX graphics cards are the most advanced ever created. Discover unprecedented performance, power efficiency, and next-generation gaming experiences.
Nvidia

THE LATEST GAMING TECHNOLOGIES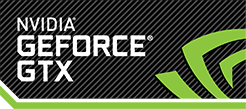 Pascal is built to meet the demands of next generation displays, including ultra-high-resolution and multiple monitors. It features NVIDIA GameWorks™ technologies for extremely smooth gameplay and cinematic experiences. Plus, it includes revolutionary new 360-degree image capture.

PERFORMANCE
Pascal-powered graphics cards give you superior performance and power efficiency, built using ultra-fast FinFET and supporting DirectX® 12 features to deliver the fastest, smoothest, most power-efficient gaming experiences.

TORX 2.0 FAN
TEAMWORK FOR GREATER STRENGTH
Just like in games, the exclusive MSI TORX 2.0 Fan technology uses the power of teamwork to allow the TWIN FROZR VI to achieve new levels of cool.

TORX 2.0 Fan design generates 22% more air pressure for supremely silent performance in the heat of battle.

ZERO FROZR-STAY UNDETECTED
First introduced in 2008 by MSI, ZeroFrozr technology has made its mark and is now the industry standard among graphics cards. It eliminates fan noise by stopping the fans in low-load situations. This means you can focus on gaming without the noise of spinning fans.

FANS SPINNING
During intense gaming or benchmarking

FANS STOP
Completely silent during idle, multimedia or light gaming

HEATSINK
Lurking under the cover of the GAMING graphics card is an engineering masterpiece designed to keep the graphics card cool. Every tiny detail of the intricate heatsink plays an essential part in providing a cool & quiet gaming experience.

AIRFLOW CONTROL TECHNOLOGY
Using advanced aerodynamics, Airflow Control Technology directs more air directly onto the TWIN FROZR VI heat pipes. The special deflectors on the heat sink enlarge the surface area, which means lower temperatures and better gaming.

THE FUTURE OF GAMING
The smoothest, fastest and most exciting gaming experience ever by eliminating screen tearing, display shutter and input lag.



Ultra-high resolution (UHD) delivers 4x the resolution of 1080p content, enabling much sharper and crisper images with delicate details during gaming.

GAMING APP
The MSI Gaming App allows for one-click performance profiles that unlock extra performance for gaming or keep your card silent during light use. It also features the EyeRest tab, giving you easy access to image quality improving technology. The LED control tab gives you full control over your MSI GAMING LED lights to set the mood.

ON-SCREEN SPEED & TEMPERATURES
Real-time monitoring of GPU Core, DRAM Frequency, GPU & CPU Temperatures and much more, in game or in other fullscreen applications, customizable to your preference.

MOBILE GAMING APP
The exclusive MSI Gaming App is now also available for Android so you can control your graphics card from your phone without having to switch to Windows.

A DIFFERENT VIEW ON GAMING
MSI Dragon Eye allows you to watch a YouTube video or Twitch Stream while playing a game simultaneously. Simply add a link or stream to the Dragon Eye application and select the size, position, volume and transparency and start gaming. With a few hotkeys you can start/pause your video or set the volume.



WANT TO SHOW OFF YOUR SKILLS OR JUST MAKE A FUN GAMING VIDEO FOR YOUR FRIENDS ?
XSplit Gamecaster & Broadcaster V2 lets you easily record your gaming moments and broadcast your live gameplay sessions to Twitch, YouTube, UStream and more.
It's simple, easy to use and ideal for sharing your gameplay with friends, family or the world - Or for capturing those perfect gaming moments, just for the heck of it.
So what are you waiting for? Join the revolution and start streaming and recording with XSplit Gamecaster today.


Graphics Processing Unit
NVIDIA® GeForce® GTX 1050
Interface
PCI Express x16 3.0
Boost / Base Core Clock
1556 MHz / 1442 MHz (OC Mode)
1531 MHz / 1417 MHz (Gaming Mode)
1455 MHz / 1354 MHz (Silent Mode)
Memory Clock Speed
7108 MHz (OC Mode)
7008 MHz (Gaming Mode)
7008 MHz (Silent Mode)
Memory
2GB GDDR5 (128-bit)
Output
DisplayPort (Version 1.4) / HDMI (Version 2.0) / DL-DVI-D
HDCP Support
2.2
Power consumption
75 W
Power connectors
6-pin x 1
Recommended PSU
300 W
Card Dimension(mm)
229 x 131 x 39
Weight (Card / Package)
527
DirectX Version Support
12
OpenGL Version Support
4.5
Maximum Displays
3
Digital Maximum Resolution
7680 x 4320